A few weeks ago Kate DiCamillo held a podcast to discuss her book Raymie Nightingale with students around the world. The podcast was open for registration only from schools and libraries and I could not pass up the opportunity to ask my library to register. I sent out invites and info inviting anyone who wanted to come, if I was going to weasel my way into this podcast I was going to offer the same chance to any other readers that wanted to hear Kate DiCamillo speak.
I am so thankful to my library for setting up the event.
It's interesting to form an opinion of someone, a person you admire and strive to be someone who would win their approval of only in your own head, only to have that perfect vision, not shattered, but rearranged into a more truthful, and ultimately more inspiring vision.
Several times Ms DiCamillo was praised for her work, shown deep appreciation for a cherished memory or quip from her stories and each time she seemed truly taken aback and confused that anyone felt so strongly about her work. She was told her work was wonderful and her response was, "oh, nooo, I don't think so," and she's laughed at her own self deprecation.
My first thought was,
How could she possibly not know her work is AMAZINGLY PERFECT?
And then it hit me. Because she's just like me! She gets just as nervous about sharing her work, about pouring her heart out on paper and risking rejection. Her fame in publishing hadn't brought her some magical dose of confidence that kept her writing fantastic books that continue to grow in popularity (and sales). She has to work at it, she has to overcome her own fears and doubts and push through the writers block and just go with it.
Of course, that probably seems obvious to everyone else, but I appreciate her work so much I couldn't see past the flawless simplicity to think maybe she actually wished she had changed something, had possibly done
better.
Raymie Nightingale is very different from her other books.
No animals,
as she put it, but it's more than that. It's not the very human casting of the story, it's not the friendship. The difference is how Raymie changed. In one summer she grew from a young girl hoping to bring her father back into a young woman who realizes the world is not made of fantasies and wishful thinking.
Raymie experienced shock, heartbreak, hope, determination, and loyalty and in the end became a better person for her troubles.
It was a beautiful story, a very
real
story, told very simply, but packed with deep meaning and emotion. I don't know if I'm just getting more sensitive, but this book made me cry. Several times.
Strength, I have betrayed you!
I left the podcast in a daze. I felt a bit like I'd imagine Raymie felt after her father called just as she was hoped and then realized that was no longer what she wanted... Only what I no longer wanted was to pretend like I was a writer and to truly become a writer. I don't need to be perfect, I don't need to read and wish I could write more like another writer, I just need to overcome my own self deprecation and
do it
. After all, that's what Kate DiCamillo did. She just did it and something clicked and she kept going.
That was basically her advice,
just do it.
She did recommend books to the kids, one of which I checked out before leaving the library because she said it was one that really touched her and inspired her.
The Wild Robot.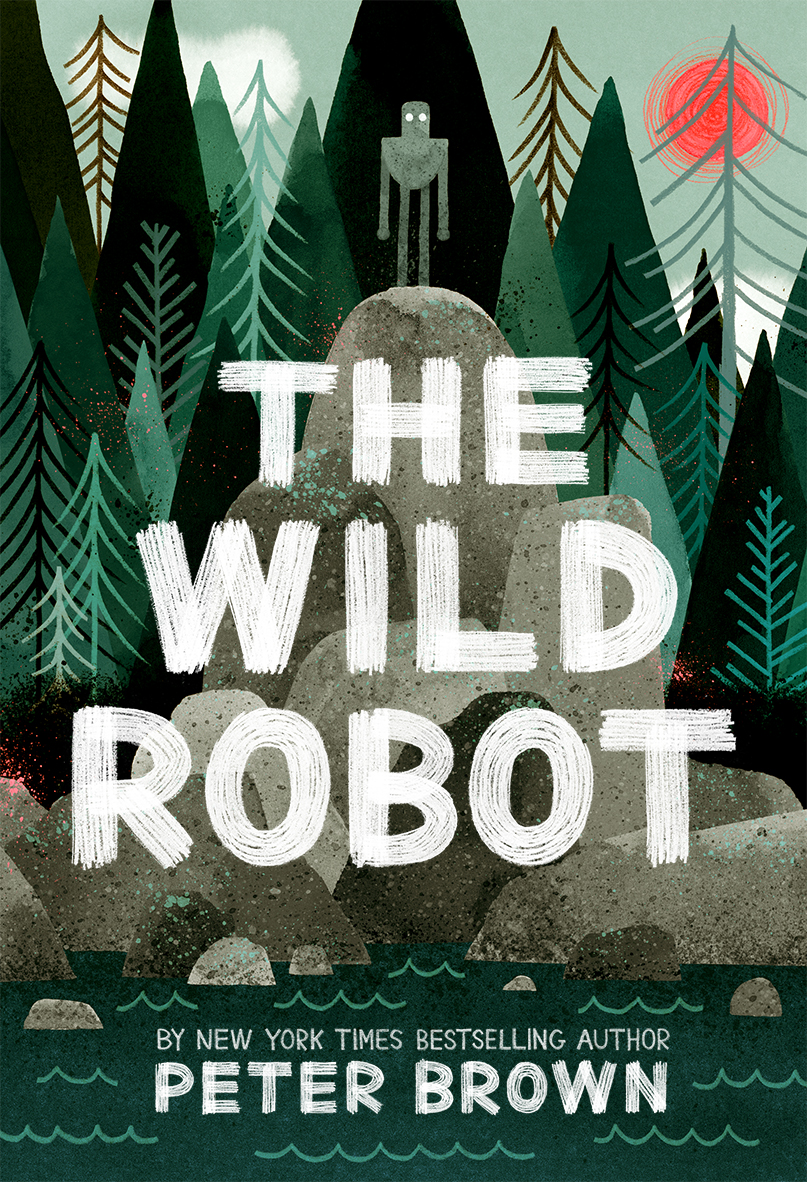 (5 stars)
I read this book with an entirely different point of view. I kept thinking, what a wonderful book, but this is not how I would write. Instead of wishing I could have written a book like this, that I could write a book like this, it was simply clear that this was someone else's style, a wonderful book that I thoroughly enjoyed... And that was it. I was no longer wishing to write like someone else, I was wishing to write like me and have a published book that someone else could feel as deeply about as I was feeling for The Wild Robot.
(I cried during this book too btw)
It was so sad, and so happy, and so innocent. If you haven't read it, I'd recommend this book to anyone. Just wonderful and I was rooting for everyone, though as the am author points out, in life there is always death. But more life comes from it.
I really hope there is a sequel, there's definitely room for one and I think it would be great to know how Roz's story really ends.
So, if this podcast happened so many weeks ago, why am I just now writing about it?
Well, for starters, I couldn't fully place what her words had affected and how I'd changed from the experience. I was a little depressed, highly motivated, and confused as to where to begin again.
Although I am not as diligent about writing as I tell myself I will be, I have pulled out a few manuscripts, rewritten a few and am still revising my biggest book project I have going. Maybe some day I'll reach the four pages a day as Ms DiCamillo suggested at the beginning. I steal away as much time as I can, but the important thing is I know I CAN do it. I can work towards my dreams, I've seen so many others do it, and if they can feel as self conscious and as insanely nit picky as I do, then I can move past my doubts and do my best. Or at least I'll try... 😉